Bring added value for your customers and many advantages to your business with VoipNow
Firmao is an independent Polish software vendor active on the Polish, German, and English speaking markets. The company's flagship product, a CRM platform bearing the same name, targets SMBs eager to grow, yet lacking their own servers or in-house IT specialists. Therefore, they are willing to outsource.
Seeing that more and more businesses were searching for a single product - with multiple functionalities like telephony, email, mobility, and customer relationship management, Firmao decided to provide them with a single online solution that would successfully meet their needs. After looking at several IP PBX platforms that would efficiently pair with the CRM and the e-mail modules already bundled, Firmao decided to integrate with VoipNow. As confirmed by the vendor, VoipNow's advanced VoIP telephony features were a solid argument in favor of the integration. But it was the UnifiedAPI that really differentiated VoipNow from other offerings. Because it allowed easy integration with the CRM module, the e-mail client, the reporting engine, and apps such as Google Calendar. 
After almost a year since integrating with VoipNow, a lot of SMBs chose to adopt Firmao to better handle communications and customer management. Customers significantly save on business costs, while benefiting from advanced PBX features corroborated with e-mail and CRM services. Firmao's customers are making the most of the contact center tools and the Unified Communications features. Here are some of the features they appreciate the most:
Click2Call - The agent using the CRM simply clicks the phone number of a listed contact and the call starts.
Call History - Conversations with each contact are easy to track, as they get automatically listed and appear highlighted on the contact details page. 
Call Recording - Each call made through the platform is stored on the VoipNow servers and can be downloaded upon request. This helps agents with any legal issues or misunderstanding arising from language barriers they might experience during calls with foreign contacts.
Caller ID - Call duration is significantly reduced because the caller is instantly identified. Customer details are prompted on screen as soon as the call is made. 

As a matter of fact, the company is so satisfied with this integration that they are also using it internally.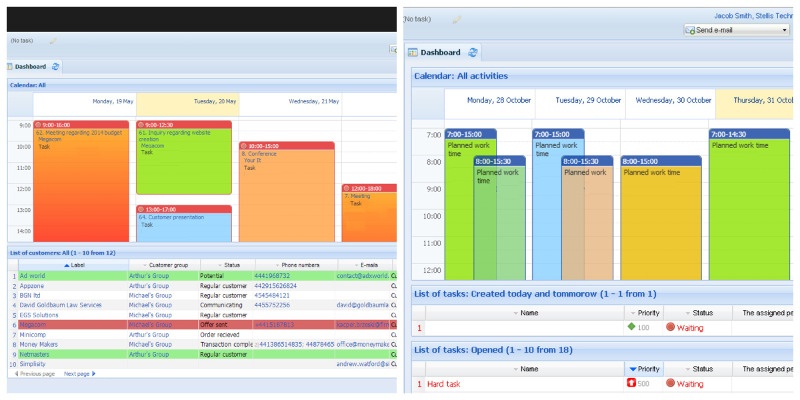 While delivering superior value to customers, Firmao's integration with VoipNow brought a lot of advantages for the vendor.
Major time and cost savings
Designing and developing separate software solutions takes time and money. Integrations alleviate all that effort. Having a unique codebase for all components and managing them from a single point of access has been helping Firmao be more efficient. 
Accelerated growth 
Offering CRM, VoIP, and e-mail as bundled services leads to more customers and increased ARPU. Customers that need a CRM solution, also need e-mail and telephony capabilities. Also, SMBs generally prefer to work with a single vendor due to lack of resources of handling multiple providers. This is why, Firmao can up-sell and cross-sell more efficiently to their existing customer base.
Larger visibility 
Having real-time access to all modules helps customers stay well-informed and make timely decisions. Information can be accessed instantly from almost anywhere, without wasting resources on extracting or fueling data from different sources.
Improved business flows
Automating daily operations such as handling orders, invoicing, and reporting, optimizes processes and saves on business costs. 
All in all, this goes to prove that integrating VoipNow capabilities into other software platforms brings a lot of benefits to the service provider and to its customers, paving the way for communication-enabled business processes (CEBP).

We are impressed with the value this integration brings to our business. VoipNow allowed us to integrate advanced VoIP telephony features with our customer relationship management solution and, thus, differentiate ourselves from our competitors. Firmao CRM Module and VoipNow Platform effectively complement each other, accommodating call centers, in particular, and small businesses, in general. Actually, we too have been using this integration inside our company, for our own business processes, and I can easily say it has transformed our workplace in a lot of ways.                                                                                                                                                                
Firmao co-founder, Rafal Namiecinski
VoipNow Features Used
Click2Call

Call History

Call Recording

CallerID

Call Queues

IVR 

Agents
Why VoipNow
Advanced PBX telephony

Modern API 

 

 

Customizable charging engine

Role-based, multitenant design
User-friendly interface

Advanced real-time reporting

Mobility
VoipNow is a cloud communications platform that enables service providers and organizations to benefit from hosted enterprise telephony, video, presence, instant messaging, conferencing, contact center tools, and mobility. The multi-awarded platform is a blazing fast go-to-market solution, due to its rapid set-up and easy deployment, integrated charging and billing engine, and competitive pricing plan. For more information on VoipNow please contact: sales@4psa.com.