Canadian company uses VoipNow to provide hosted telephony and data services to commercial organizations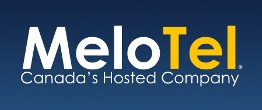 MeloTel is a National Phone, Internet, Hosting and Special Project Management company that provides services within all 10 provinces in Canada with one simple phone call. The company provides Voice over Internet Service as a hosted solution. It offers complete voiceover talent and production services and it relies on VoipNow to accomplish that.
MeloTel focuses on providing hosted telephony and data services to commercial organizations. Since MeloTel was a beginner in the VoIP industry, they found it extremely important to offer competitive features and functionality. The company's services target telemarketing centers, customer support departments, and government programs, small and medium commercial establishments. The nature of their clientele includes call centers that require CRM integration for click-to-call functionality.
For some time, MeloTel focused on developing their own platform to allow them to control call flows, track and control users and billing. After having explored other possibilities, they decided to go for VoipNow, which turned out to be working "like a dream." MeloTel's VoipNow servers are hosted within a data center and they deliver their services over the cloud. The company has over 1000 clients and extensions. They use phone terminals, queues, IVRs, voice mail centers, conference, callback extensions, calling cards, intercom and paging extensions and log in centers.
The reason for choosing VoipNow over other products was that it was not standalone software. VoipNow has various APIs destined for developers to customize it to their needs. MeloTel were pleased that by using the API they were able to integrate VoipNow into web-based CRMs. They integrated VoipNow with various customer relationship management software products: Melochenator Software, DaFeeder and SalesForce. In addition to VoipNow, MeloTel also deploys proprietary Asterisk software.
After switching to VoipNow, MeloTel has experienced lots of benefits.
Cost-saving APIs
VoipNow supports application development through APIs such as CallAPI, SystemAPI, and Business Zone API. They are flexible, cost-saving services that allow third-party software applications to perform various operations that would otherwise have to be done manually;
Billing management
VoipNow takes the tasks of handling how your clients and resellers are charged and makes them automated. With its built-in billing engine, both the administrator and the reseller can set up charging plans that will later apply well-established rules to determine the amounts that need to be paid for the service.
Client and reseller management
A single instance of VoipNow runs on a server and serves multiple client organizations or tenants. A service provider can still deploy multiple VoipNow virtual environments on the same physical machine, even if the software is multi-tenant.
"We appreciate VoipNow because it's not just standalone software. It's backed by the team of management and support staff and they are always developing to make it better. It has more features and functionality with their APIs that allows for an amazing integration into any web-based CRM." 
 
                                                                                                                                                                                                                                                                                                                      John Meloche, President of MeloTel Inc. 
VoipNow Features Used
CallAPI
SystemAPI
Whitebox
Multitenancy
Basic features 
Advanced cloud services such as IVR, faxing, call screening, call reporting
Hosted/Cloud PBX
Why VoipNow
Pay-as-you-grow licensing plan
Global, scalable, easy to use solution
No upfront costs
Real-time billing engine
Flexible charging plans
Straightforward charging
Multitenancy
APIs
VoipNow is a cloud communications platform that enables service providers and organizations to benefit from hosted enterprise telephony, video, presence, instant messaging, conferencing, contact center tools, and mobility. The multi-awarded platform is a blazing fast go-to-market solution, due to its rapid set-up and easy deployment, integrated charging and billing engine, and competitive pricing plan. For more information on VoipNow please contact: sales@4psa.com.