4PSA brings companies in line with modern communication techniques, not only by focusing on integration with existing software, but also by creating new business opportunities.
Integration of All Communication Channels
Unified Communications seamlessly integrates multiple communication channels such as voice, video, presence, faxing, instant messaging, email groupware, and collaboration.
Ultimate Tools at Affordable Price
Small and medium-size enterprises can now take advantage of modern Internet-based communication systems that were traditionally reserved for large corporations.
On-premise and Cloud Options
One of the most important decisions your business has to make is whether to invest in on-premise deployment or to subscribe to a hosted PBX. We can assist you in making the better choice.
Benefits
Conducting a business in this tough globalization era, where social networks are gaining momentum, requires a new set of communication tools.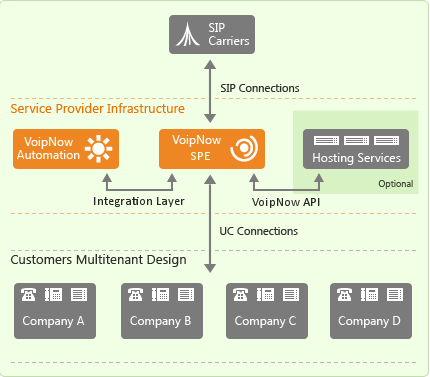 Highlights
No important investments to replace legacy telephone systems are necessary
No administration overhead - all employees are able to manage their own account from the browser
Easy to hold conferences with colleagues and customers
Interactive Voice Response (digital receptionist) for people calling the company
Improve customer satisfaction with calling queues for sales and customer support
Integration with other applications through the available APIs
Receive faxes in your email and send faxes as easy as sending emails
Receive voicemails in your Inbox
Lawful call recording (on demand and enforced)
Use any device you want to receive calls as if you were in the office: hardware phone, softphone on your PC, smartphone or tablet
Video calls are available even when using free soft phones