Offering VoIP to the residential market is usually a voluminous business. Automation and cost-efficiency are keys to success.
Good Margins in Crowded Business
With flexible licensing, service providers will be able to maintain a decent profit margin by delivering excellent call quality, reliability, and value-added services such as mobile-landline integration or voicemail.
VoIP for Residential Users
VoIP services are extremely attractive for residential users due to their price and feature set that cannot be matched by traditional telephony services.
Superior Management
Billing and resource management capabilities are two key factors that contribute to the success of residential VoIP business. Using VoipNow Platform, everything is automated from account deployment, phone provisioning to charging and invoicing. 
Benefits
People need more than a simple dial-tone service. If they didn't, they they would not use other communication channels like social networks or email. Many telecom companies claim that there is no demand for advanced voice solutions on the residential market, but the growing use of smartphones and tablets proves that customers have larger expectations when it comes to phone calls.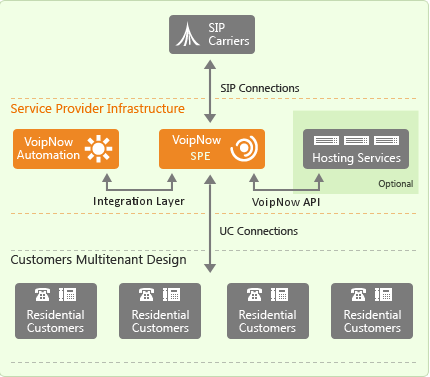 Highlights
Low initial investment and pay-as-you-go licensing
Requires standard x86 compatible servers and Linux operating system
Multi-tenant, role-based AJAX web management interface with four levels of administration
Real-time billing on all account levels
An extensive set of features and virtually unlimited possibilities to create service plans
Provisioning for equipment from various manufacturers
Online store, account provisioning, customer management, recurring invoicing and automated charging
Unlimited scaling thanks to the 4PSA Cloud technology
A proven platform used on thousands of deployments worldwide
Training programs for support staff